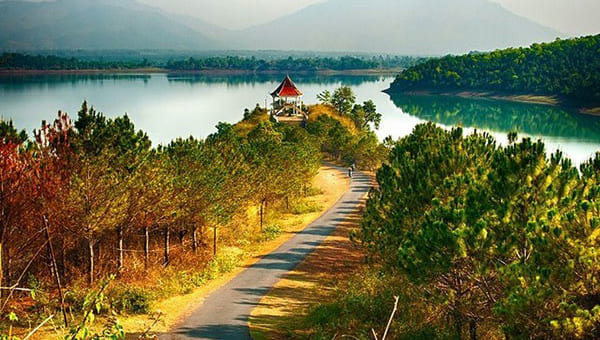 The 5 Vietnam Central Highlands below will help motorcyclists to discover various routes with majestic natural landscapes in Vietnam.
Once traveling to Vietnam Central Highlands, you will not only get to pay a visit to impressive tourists attraction but also experience the distinct lifestyle of the locals from many different areas and enjoy the one-of-a-kind specialties.
Thanks to the average annual temperature ranging between 23 and 24 degrees Celsius, you can visit these places at any time of the year. In addition, together with the cool, mild climate and friendly locals, these attractions will undoubtedly hold travelers' footsteps and keep them coming back over and over.
Therefore, if you have a strong passion for Vietnam motorbike tours to remote regions in Vietnam, you will definitely not want to miss these most striking views. In case you are planning your trip, please refer to the great suggestions below.
Buon Ma Thuot
Known as the provincial city of Dak Lak, Buon Ma Thuot is 1,300km away from Hanoi and 350km from Ho Chi Minh City. If you want to see Buon Ma Thuot in the prettiest season when everywhere is carpeted with nice flowers, the ideal time is December when wild yellow anemones start to bloom. When it comes to this city, people often think of immense coffee fields. However, that is not its main attraction.  Visiting the place, tourists will also be immensely fascinated by the mysterious national parks or the beautiful Serepok river. Plus, some places of interest here are Don village – a rural community that adopts elephants, Lak lake- a large natural freshwater resource for daily activities, and National Park Chu Yang Sin- a unique ecosystem for Highlands creatures.
If riding on a motorcycle, you can immerse yourself in all these enjoyable scenes in 4 days at most.
Kon Tum
This is a unique area with the mountainous terrain distributed from the northwest to the east. Visitors can take a detour to wander around the region and explore the beautiful sceneries which can only be found in Kon Tum.
The most outstanding place that tourists definitely cannot miss is the legendary Indochinese junction – the intersection of 3 countries Vietnam, Laos, and Cambodia. To reach this magnificent mark, visitors will have to go through a rather rough terrain.
A motorbike can be your companion and assist you in your journey of conquering all the roads no matter how rugged, bumpy, gravel, or muddy they are. Furthermore, with your trusty bike on your journey, you also can discover to the very end the exotic side of each place.
Pleiku- Gia Lai
Located in Gia Lai province, Pleiku is the 3rd largest city in the Central Highlands, after Dalat and Buon Me Thuot.  When referring to Pleiku, people often think of a heavy coffee-growing field with green pepper.
This city is also famous for its two big water reservoirs called T'nung lake and Tea lake. Especially T'nung,  whose name can be translated as " sea on the mountain". In fact, this place is a natural freshwater lake formed on the crater that has existed for hundreds of millions of years.
You will enjoy the whole view of the roadside if traveling by motorbike. So please do not forget to bring a tent if you want to enjoy a picnic here.
Once observing the surrounding scenery, you can notice the sight of the clear blue water and the wonderful sound of nature: the sound of pine trees fluttering in the wind. In the afternoon, at the lake, there are different activities like fishing that you may want to try. Or, if you want to buy souvenirs, you can stay at the gate to check out famous carvings and fruit carts nearby!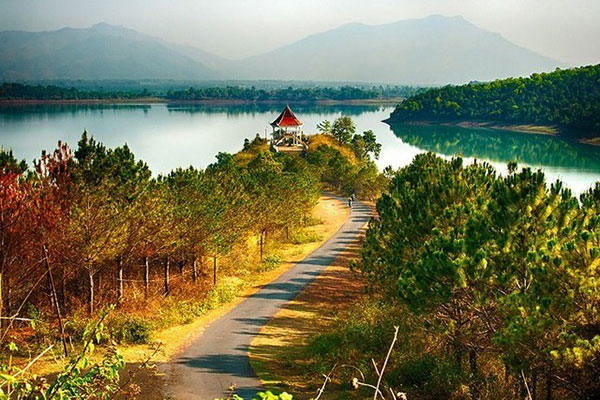 Da Lat
You will fall in love with Da Lat from the first time you arrived. Located on the Lam Vien plateau, the climate of this 1,500-meters- above- sea- level city's is cool all year round. Also, thanks to the natural attractions,  millions of tourists spend their vacation in Da Lat every year.
Some unignorable destinations are Truc Lam temple – the largest monastery in Lam Dong province and Love Valley – a must-visit destination for couples.
You also shouldn't miss the famous waterfall clusters with abundant vegetation. Once coming there, you will have a chance to light a campfire, explore the primeval forest, or sip a cup of coffee while admiring the scenery and listening to the lyrical music.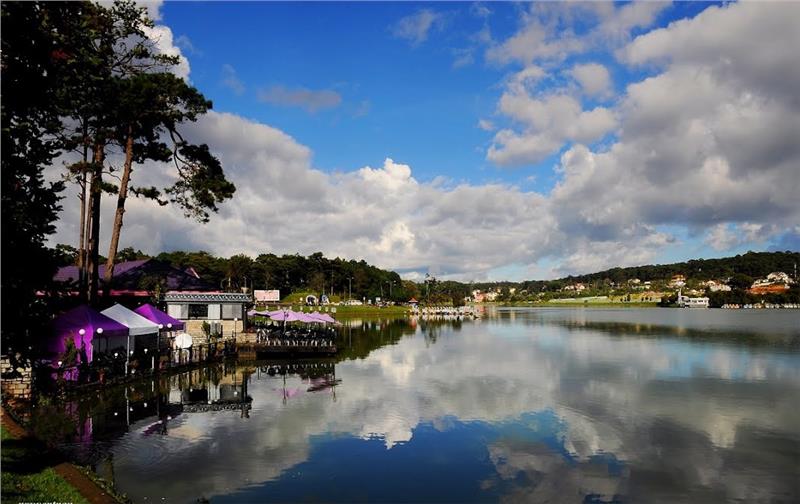 Dak Nong
Compared to other sites, this destination is still unfamiliar with tourists. However, I recommend Dak Nong as a place for you to relax and spend your time together with a good companion.
The tourist destinations of this place are still in the process of exploitation, so you should bring tents and sleeping bags as there are not many hostels reasonably priced here.
You should wear outdoor clothes,  which is cut out for mountain climbing (and contemplating waterfalls as they will not likely get you wet). In addition, it is also necessary to bring an umbrella, sunscreen, and other personal items.
Dak Nong also has a lot of specialties from wild meat to homegrown dishes. You will get a chance to taste many special types of wine in Vietnam Central Highlands. Besides, coffee nuts from weasel and wild meat like boar bring a pleasant flavor.
Instructions When Traveling By Motorbike
Before the trip, you should take your motorbike out for full maintenance, check the brake pads, the wear of tires, and change the engine oil.
Vehicle-related documents should be included: vehicle registration, international driver's license, civil liability insurance, and road toll payment.
You should bring along a helmet with glasses, extra clothes and body protectors.
A basic car repair kit is indeed needed as the garage are hard to find on your journey to highlands.
If it rains, you have to use rain gear instead of batwing raincoats as the wide surface can make you and your bike to wind, thereby affecting vehicle control.
It is also necessary to bring processed food and drinks for safety and hygiene.
Conclusion
A trip to discover the mystery of Vietnam Central Highlands will be certainly an extremely attractive journey for those who are passionate about adventure. Pristine beauty and unique culture, epic landscapes, and delicious specialties have all made Vietnam Central Highlands an ideal destination. What are you waiting for? Prepare a motorbike and discover this land right now!