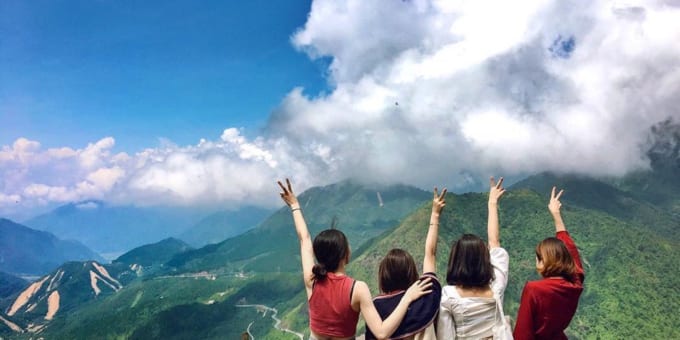 First-time visit to Vietnam and you're freaking out with the city's traffic madness? Then a Vietnam Travel Guide is indispensable to get you through this alive!
One day you browse through travel magazines and suddenly come across some pictures of Vietnam. Something  popped up in your mind: "why are these photos so familiar? Have they appeared in some war movies perhaps?"
You got it right! Vietnam has become a famous background for numerous acclaimed war films, but this beautiful S-shaped country also is making a name for itself  for the unique surreal beauty.
There has to be a reason why Vietnam has captured millions of tourists' affection every year.
So everything is set and you are ready to go!
Wait a minute! Do I even need a Vietnam travel guide? Nah, probably not! It's just a country like many others!
Duhhh! You've just made the biggest mistake of your life! Believe me when I say you can't make it through for 2 days in Vietnam and will soon end up crying with your mama.
There is a saying "Prevention better than cure", and a detailed Vietnam travel guide is your best bet. Let's dig in!
There are tons of exciting activities to keep you as busy as a bee all day long. The best way to ensure you don't miss out on any intriguing attractions that I'm going to mention here is to rent a motorbike.
Why is a motorcycle the most ideal option? It's affordable, convenient, and easy to wriggle through the complicated road system of the country. Besides, a bike will be a perfect "sidekick" for wonderful motorbike tours in Vietnam. 
It is also necessary to know inside out the most suitable bike for yourself. You don't want your "travel mate" to mercilessly break down every 100 meters like an old man, do you?
OK let's come back to our main topic – what to see and do in Vietnam? This Vietnam travel guide has got your back!
Go on a boat tour around the Mekong Delta
Get ready to be blown away by the 60,000-kilometer interconnected waterway, stretching across 3 regions of Vietnam. That's something you don't see every day!
This area is home to numerous local temples, pagodas, mangroves, fruitful orchards, and unique floating markets. It's highly recommended to tour the Delta by boat or bike to truly explore its surroundings.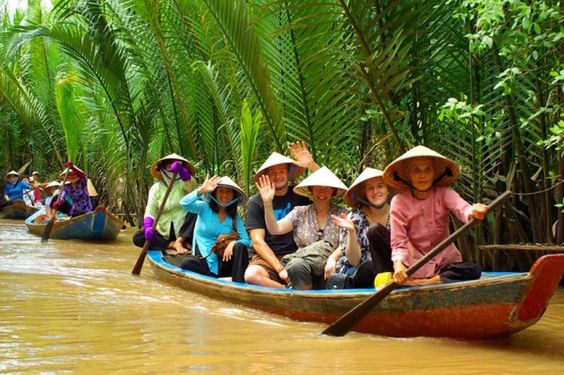 Be a wanderer in Hanoi at night
Vietnam's capital city, Hanoi has a lot to offer its visitors, ranging from visiting temples with elaborate and typical architecture, having history lessons at many interesting museums, to showing a deep respect to the country's beloved president Ho Chi Minh.
Also, don't forget to drop by the Old Quarter for cheap and refreshing local beer and some friendly chit chats with the locals.
Soak under clear blue water in Halong Bay
Spend at least 2 days fully feeling the beauty of this precious jewel of Vietnam's tourism.
Consisting of 3,000 islands surrounded by the emerald blue waters, Halong Bay has witnessed thousands of tourists flocking to it to enjoy the breathtaking natural beauty and join in exhilarating water activities.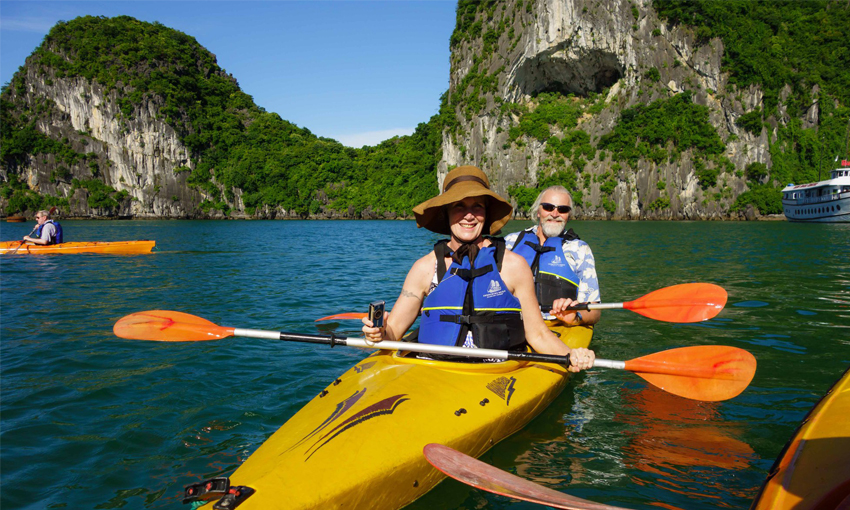 Get lost in Sapa
This is the top trekking and hiking spot in the North of Vietnam. Sapa's twisting and winding mountain roads overlooking the deep abyss below are surely not suitable for the faint of heart, but the magnificent natural scenery is worth taking the risk!
There are also many other destinations for your itchy feet! So stay tuned for my next article giving more details on this!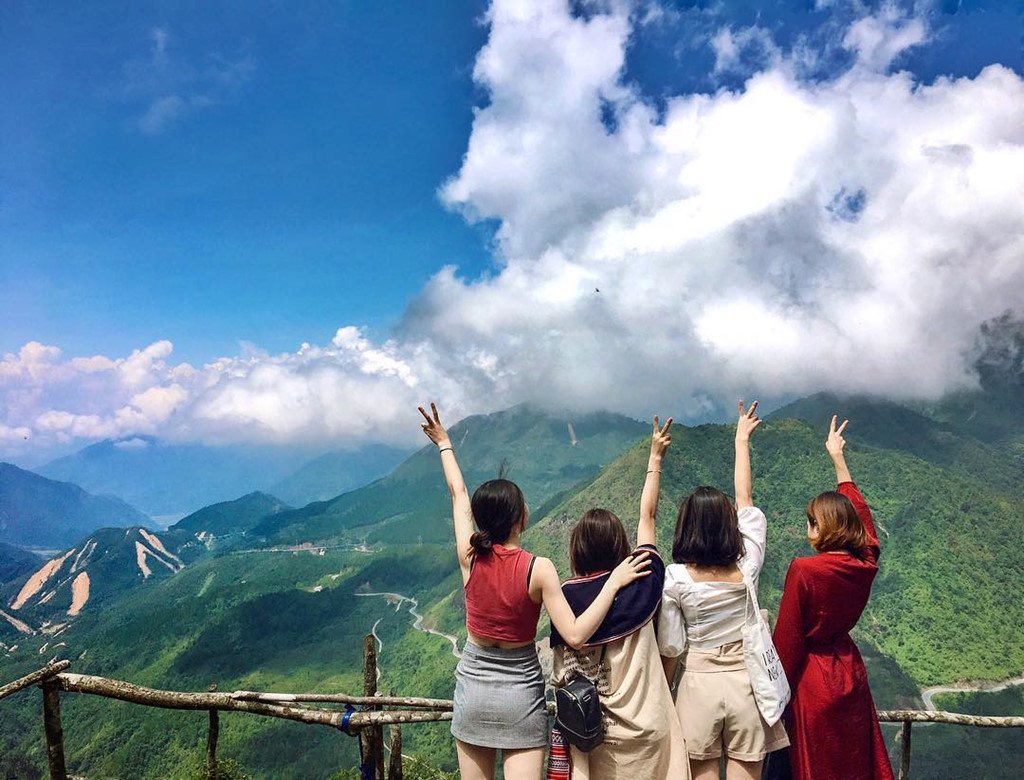 How Much Does It Cost To Travel In Vietnam?
Don't need to worry much for your wallet as traveling in Vietnam is pretty affordable, or should I say, unbelievably cheap compared to other countries in SouthEast Asia!
There are four major types of cost every traveler needs to pay during their trip here.
Accommodation
First and foremost, where to sleep?
The lowest price for a super basic accommodation is 4 USD/night. For a more comfortable and luxury stay, you are expected to spend from 15 to 20 USD/night onwards. Overall, accommodation cost is not a big concern, even for budget backpackers.
Food
Can't survive without food for a day, can we? Most symbolic and national dishes of the country like "Pho" or "Bun cha" don't cost more than 1 dollar. Even in some restaurants, the cost is inexpensive, at around 2 – 4 USD per dish.
If you're keen on cooking for yourself, the estimated budget for shopping here is around 15 USD each week for basic groceries. Go for local markets to get the freshest and cheapest food.
Besides, do not forget to BARGAIN!
Transportation
Buses are the common type of public transport in most of the big cities in Vietnam with the price of less than 1 USD per ride. Night buses range from 5 to 30 USD, connecting many tourist destinations.
You can even rent a motorbike for about 8 – 9 USD/ day to explore the country by yourself, which is a favorable option of adventurous travelers. For dirt bike rental in Vietnam, the cost would be higher to hire a dirt bike (Honda CRF250, XR150, Suzuki DRZ400…), ranging from 25 to 70 USD/ day. 
Entrance tickets
A lot of attractions in Vietnam rely on its natural beauty, thus it costs very little. Other places require tourists to pay for an entrance ticket with a price range of 5 to even 70 USD!
Now you know how useful this Vietnam travel guide is! Reading this and you are able to save a fortune which may be spent on unnecessary items and common scams.
Some Helpful Money-saving Tips
      Stay away from luxury restaurants and stick to street food as it is cheaper, more delicious and more "local".

      Go for late-night travels.

      Learn to bargain mercilessly

      Bring a water bottle

      Choose cheap airline brands to travel between countries
How To Get Around The Country?
There are different types of transport with different prices operating throughout the country.
Bus: the cheapest, in big cities mostly
Taxi: starts from around 1 USD per kilometer, expected scams so only go for reputable taxi brands with clearly-shown meter clocks
Train: affordable, safe, comfortable, ideal to enjoy views of Vietnam's countryside but quite slow.
Plane: reasonable and fast
How To Keep Yourself Safe In Vietnam?
This is the most important part of this Vietnam travel guide since your safety should be your first priority when staying in a strange country.
In general, Vietnam is considered a safe place for travelers, even female or solo ones. However, everything can happen during your trip so here is some advice to stay safe and enjoy the experience.
      Don't put your valuable belongings out of sight as thieves are quite common in big cities.

      Always count the money change. People may accidentally pay you less

      Don't receive anything from strangers if you have no intention to buy it

      Trust your gut and stop doing whatever you're doing if something feels wrong

      Purchase travel insurance before going

      Avoid wandering around at night 
Final Words
This is it! Phew, quite a long article right? Anyway, thanks for being so patient and keep reading until now. Hope this Vietnam travel guide will come to your aid while planning for a wonderful trip to this gorgeous country.