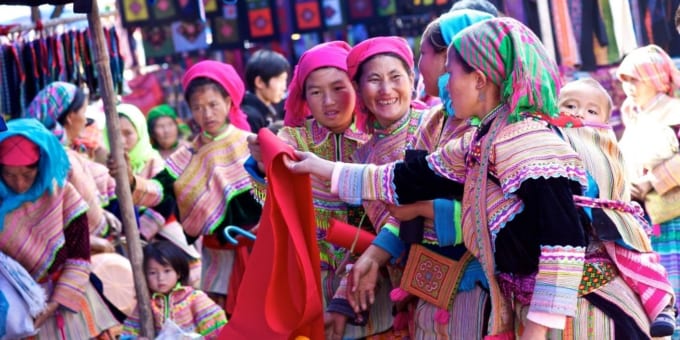 Sapa has been widely known as one of the major tourist destinations of northern Vietnam. This area is blessed with amazing nature landscape and unique culture and customs of local ethnic people.
This place has a wide range of things on offer for its visitors. While discovering this mountainous area, one can conquer Fansipan, which is well-known as the highest peak of Vietnam, enjoy the beauty of the magnificent rice terraced fields, visit the remote ethnic villages and taste exotic food here. One of the things that every traveler should try while they are here is exploring Sapa markets, where locals' life is reflected in a lively and authentic way.
Sapa markets are unlike those in the city which take place every day. Markets in Sapa often occur every few days or weeks. They are the most crowded on weekends with Hmong and Yao ethnic sellers and buyers, along with Vietnamese and international tourists. These markets is not merely a space for the local community to sell and buy things but also a tourist destination that excites visitors.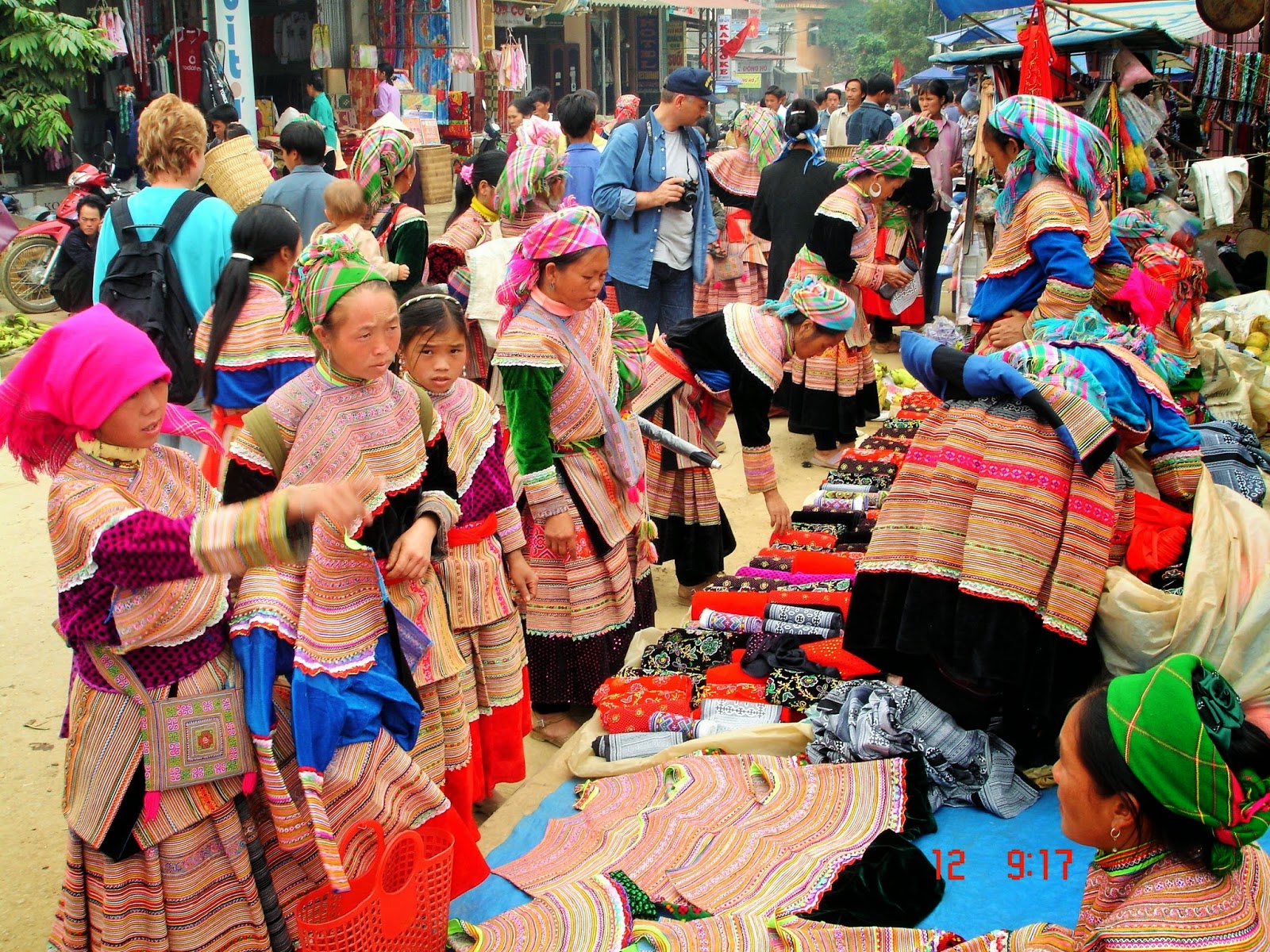 In addition, Sapa markets are both a place for trading and a place for young people to meet, get to know each other and make friends. While you are in mesmerizing Sapa and want to explore local culture and lifestyle, those are the markets that you definitely should head to:
Bac Ha market
Bac Ha market is considered one of the most visited Sapa markets with a plethora of interesting things to see and experience. Many people said this Sapa market is one of the most interesting markets in not only Vietnam but also Southeast Asia region.
Located in Bac Ha district of Lao Cai province, this market is some 65 km from Lao Cai city center and has been listed in top destinations in the province. What is so special about this market? It is not exaggerated to say that this biggest market of the ethnic people in northern Vietnam is the most lively place to see locals' lifestyle and culture.
Starting at 7.30 am every Sunday, this market draws sellers from Flower H'Mong, Black Dao, Tay, Nung, La Chi ethnic minorities.
Local residents and even those living far away come to this market to buy and sell a wide variety of goods, commodities and even live animals, exchange news and even make friends.
This market was once a famous centre for trading horse, the main means of transport of local people at the time. Nowadays the market is well-known for its vibrant and bustling atmosphere with a diverse range of items on sale – from fresh food, herbs to animals and handmade items.
Coc Ly market
This is well-known as one of the busiest markets in Sapa that occurs every Tuesday only. Known as the trading hub for Black Dao, Tay, Nung and Flower Hmong ethnic people is located in Coc Ly commune, Bac Ha district and has several items on offer for local customers and visitors. The market is divided into separate sections that sell different groups of items – brocade, livestock, food, specialties,.. The location also makes this a special place to visit. It is situated in a bridge that crosses over Chay river with beautiful landscape. Here visitors can find a diverse range of handmade items: bags, costumes, scarf, … or tasty agricultural products like mushroom, herbs.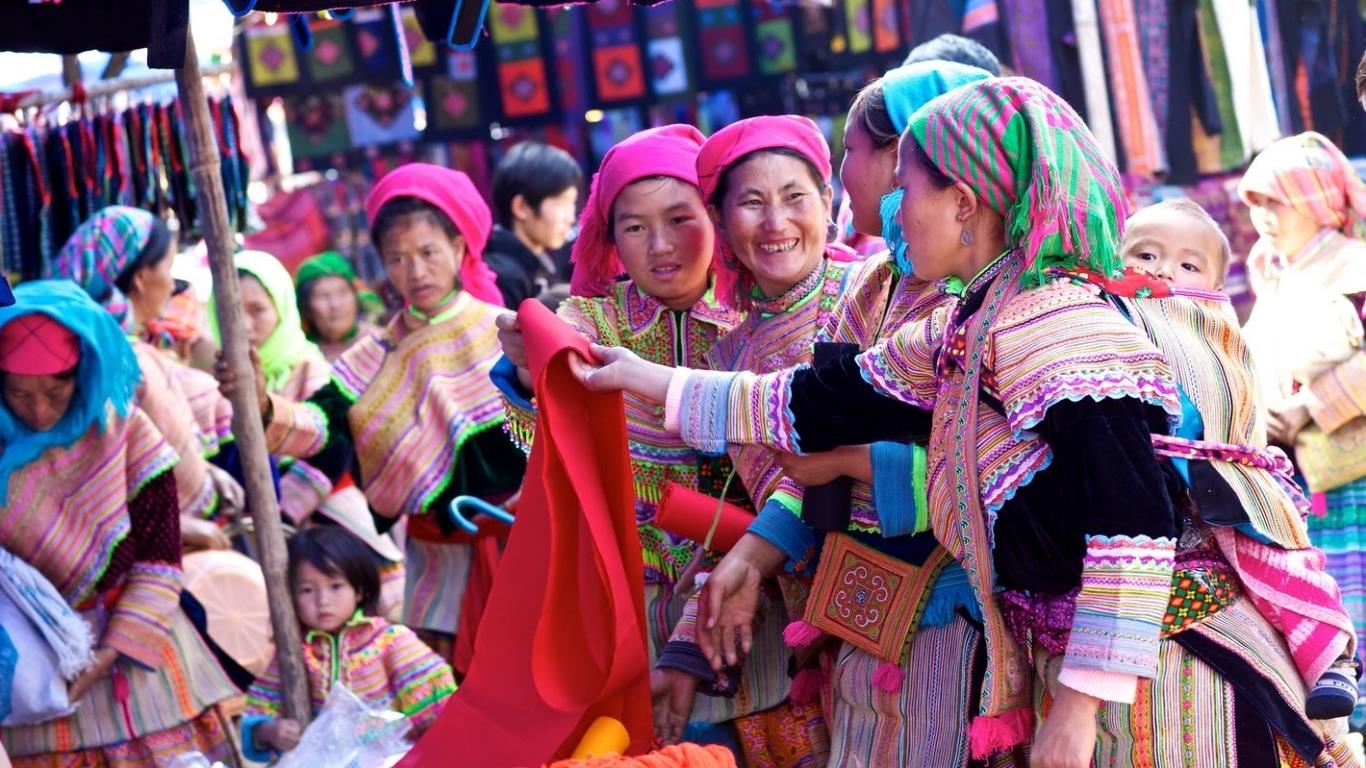 Muong Hum market
Coming to Muong Hum Market, you will find many hand-crafted products. It is located in Bat Xat district, some 40 km away from the center of Lao Cai city. This market occurs every Sunday. Thanks to the location of Muong Hum Market in the valley, visitors can admire the picturesque sceneries here and catch the sight of H'Mong ethnic women their in colorful floral traditional dresses, or ethnic Dao girls with brightly decorated red costumes. People and landscape here help to make a very beautiful and lively picture.You will hardly find a place that can give you an open space that gives a great sense of community and a beautiful scenes.
This market has many things on offer so if you are looking for some unique souvenirs to bring back as gifts, this is definitely the place to go. Handicrafts of various styles and colors made by the skillful hands of local women are common here.
Preserving the traditional market culture
In Vietnam, market plays an important role in people's life. It is both a place for trading foods, goods and items but also a communal and social space for people living in the same neighborhood. People come here not only to buy and sell items but also meet, talk, exchange news and make friends with each other. Traditional markets are often located in a rather central spot of a village or town and are frequented by local residents.
Market has been a long-standing culture of ethnic minorities and an exciting place for tourists to visit in order to be immersed into the locals' life and explore more about their culture and lifestyle. Yet in many parts of Vietnam, people go to supermarket instead and market culture begins to fade away. Sapa is among the places that has been well preserving traditional markets in Vietnam.
In the past, markets of ethnic people in Sapa were a place for locals to exchange such agricultural produce as corns, rice, potatoes, cassava,…for the item the family needs.
In recent years, tourism in Sapa has been booming. More and more tourists are searching for authentic places and experience. Commuting from one place to another has been made easier and more convenient. Tourists' demand for locally made and grown products and handicrafts are also rising. Therefore, market is still a big part of Sapa and helps the local items reach more places.
For those who want to discover local culture in an authentic way, visiting a local market is a must.
Coming to traditional markets in Sapa, travelers will be mesmerized by the life here. They have the opportunity to see, taste, experience and feel first hand.
Try local dishes, see local artisans delicately work with complicated brocade or buy some handmade item with limited editions are the things that make a visit to the markets worthwhile.
If you are planning a visit, then you should pay attention to the date of market and the opening time as these traditional markets are held once a week only and open quite early. Get to the spot very early to watch local traders prepare for their day and enjoying breakfast right in the market are highly recommended.
To get a full understanding and experience of the local culture, one should spend half a day in a market to make sure that you have time to meet different ethnic minorities, get to know them by talking to them (with translation from our guide) and see them perform their work.
With a variety of things on offer, visiting traditional markets is an exciting experience that any one should try while they are in Sapa.
Joining Sapa motorbike tours with scenic off-road routes like Hanoi to Sapa via Thac Ba Lake, Sapa to Ha Giang, Sapa to Halong Bay… designed by BM Travel Adventure, you will discover the hidden charm of the beautiful Sapa markets. More than that, you will witness the majestic mountains, the towering peaks, and dense forests on the way to Sapa poetic town.
We, BM Travel Adventure, are a leading motorbike tour operator and motorbike rental in
Vietnam. Annually, we have operated hundreds of off-road Vietnam motorbike tours,
Vietnam dirt bike tours, Vietnam enduro tours from north to south (Northern Loop
Vietnam, Northeast Vietnam Motorbike Tours, Northwest Vietnam, Ha Giang
Motorbike Tours via Hoang Su Phi, Sapa Motorbike Tours, Vietnam motorbike tours
on the Ho Chi Minh trail…), and also motorbike tours to the neighboring countries
like Laos, Cambodia, Thailand. We are sure to offer visitors the best places to travel
to matching their lifestyle for a fun experience and the most unforgettable motorbike
tour.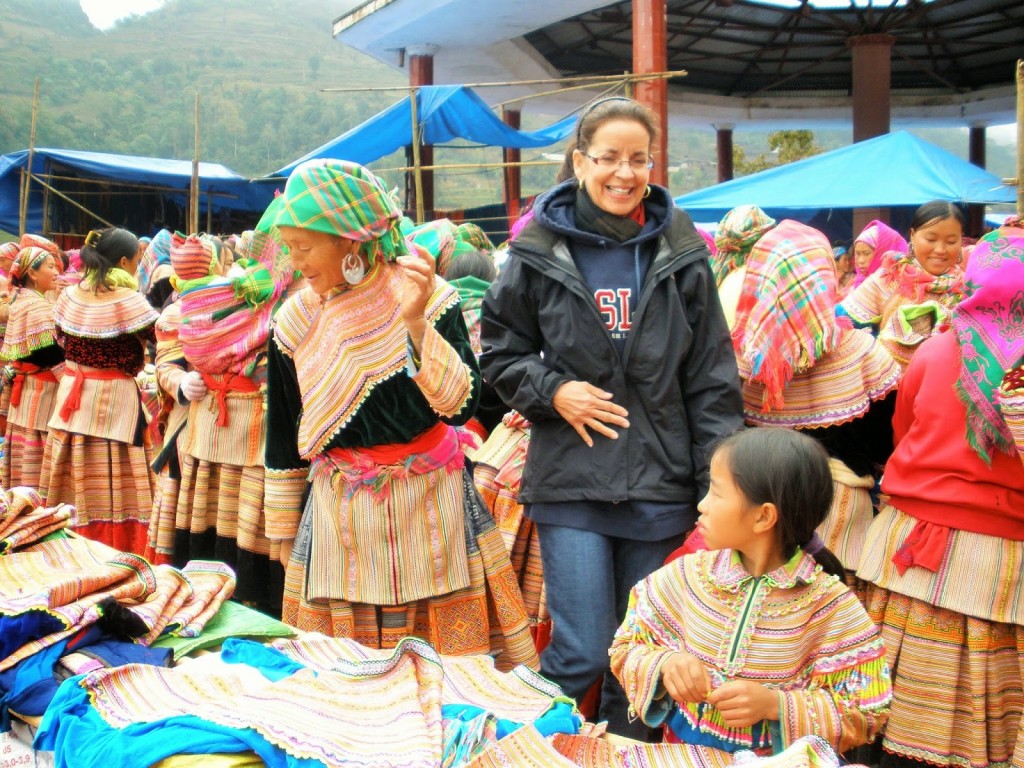 Aside from Vietnam motorbike tours, BM Travel Adventure is also a leading motorcycle rental in Hanoi, Vietnam offering all kinds of motorbike comprising dirt bikes, adventure bikes (Honda CRF250L, XR150L, Suzuki DRZ400, Triumph Tiger, BMW GS1200…) and enduro bikes (Kawasaki KLX 450R, Yamaha WR450F). Having many years of experience, we ensure to provide the best motorbike rental services.