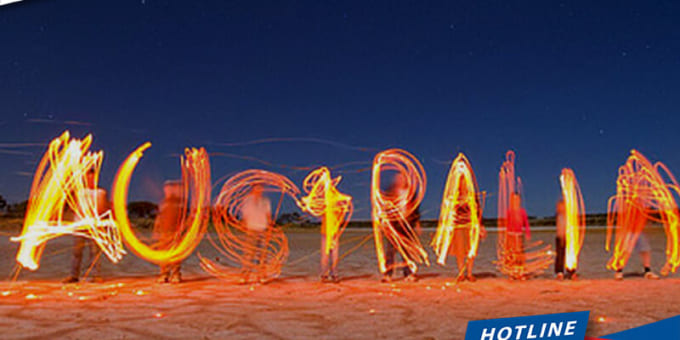 In order to visit Vietnam for tourism or business purpose, Australian citizens have to apply a visa to enter the country. Holding Australian passport, you are entitled to get easily Vietnam visa. This section we bring out all detailed requirement and instruction that will help you smoothly apply Vietnam visa for Australian citizens without any hassle.
View more:
Vietnam visa requirements for Australia citizens 2019 – 2020
Vietnam Electronic Visa (e-Visa) for Australian citizens
Checking Vietnam visa requirements for Australia citizens is the first step you have in order to start your Vietnam visa application to visit Vietnam. As visa requirement for different nationalities are not the same, you are highly recommended to figure out all necessary requirements and start preparing the documents for that visa.
Standard Vietnam visa requirements
Passport: have at least 6 month validity since your travel date.
Photo: 4x6cm sized passport standard – recently taken, no glass.
Vietnamese visa application form: download and complete the form for visa on arrival.
Stamping fee: pay in cash (USD is preferable), check Vietnam visa fee.
Visa approval letter: this is a must-have document if you want to obtain a Vietnam visa upon your landing.
Documents required to get Vietnam visa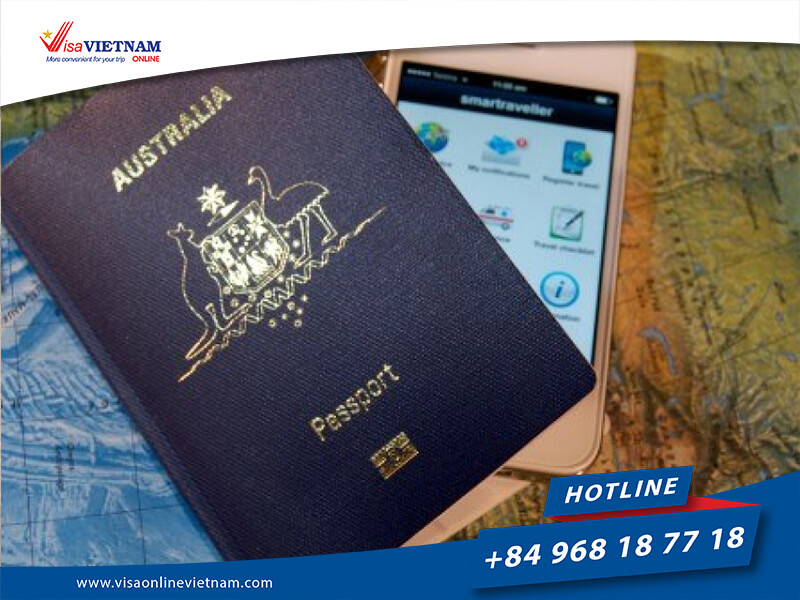 Enter Vietnam by airlines
Hold a passport valid for at least 6 months from the actual entry date to Vietnam
Round trip ticket and hotel reservation can be required if necessary
How to apply Vietnam visa for Australian citizens?
Australian citizen can select one of two legit methods to apply for a visa to Vietnam
Get Vietnam visa on arrival
The Vietnam Government officially grants a Vietnam visa on arrival, which is recognized as the easiest and simplest way, for Australian citizens to acquire a valid visa once arriving at the Vietnam airport.
Vietnam visa on arrival airports is applicable through aviation way only. On this way, after receiving your requirement, we will make a visa and send you back the Vietnam visa approval letter to your email in order to be granted visa stamp/sticker when you arrive. Just see as bellow to see how does it work?
You should fill in the Apply visa online form with your information about:
Your full name, Date of birth, nationality, gender, passport number, passport validity…
Purpose of visit: tourist or business visa to Vietnam.
Type of visa: 1 month; 3 months and single or multiple entries visas.
Arrival date: same as your flight ticket. In case you have not booked any ticket, arrival date should be the same as the ticket that you will book later on or any day after that time.
Arrival airport: you can choose one of them, as these type of visa on arrival airport are accepted at all Vietnam international airports, there is no problem when you choose incorrect arrival airports. Vietnam International airports include: Tan Son Nhat International airport (Ho Chi Minh City), Noi Bai International airport (Hanoi Capital);Da Nang International airport, Cam Ranh International airport (Nha Trang city), Can Tho International airport ( Can Tho city), Phu Quoc International airport ( Phu Quoc Island).
Processing Time: It will depend on when you want to receive visa. There are many times such as 2 working days, 4-8 working hours, from 30 minutes to 1 working hour or even in Time off, Sat, Sun or Holidays
After processing time, you will be received Vietnam visa approval letter and Vietnamese visa application form ( NA1 form), you should: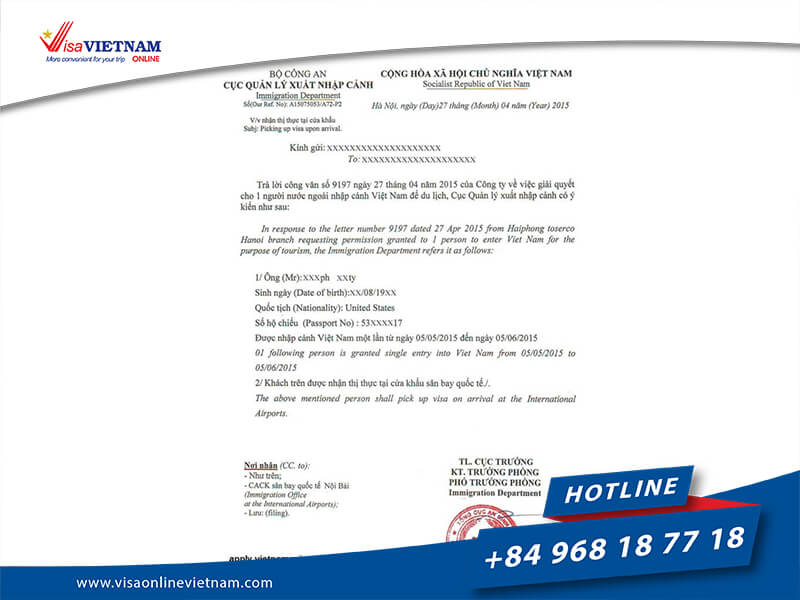 Print out both of the forms and fill out the NA1 form.
Prepare 02 passport photos size 4×6 with white background (taken not over 6 months with no glasses) and an amount of USD in at least it has to be suite for Vietnam visa stamping fee as below:
– 25USD for 1-3 months single entry visa;
– 50USD for 1-3 months multiple entries visa;
– 95USD for 6-months multiple entries visa;
– 135USD for 1-year multiple entries visa;
Put all the mentioned things above along with your passport in a package before taking your flight to Vietnam.
When you arrive in International airports in Vietnam, you need to go directly to "Vietnam Landing Visa Office", At this place, you need to give your passport, your passport photos, Vietnam visa approval letter, NA1 form, stamp fee to Vietnam Immigration officers. After checking, they will stamp the Vietnam visa into your passport.
Applying Vietnam visa on Arrival, you can get your Vietnam visa in Melbourne, Sydney, Perth, Cairns, Adelaide, Brisbane, Canberra or any cities in Australia. Let's apply visa at visaonlinevietnam.com!
Get Vietnam visa at the Embassy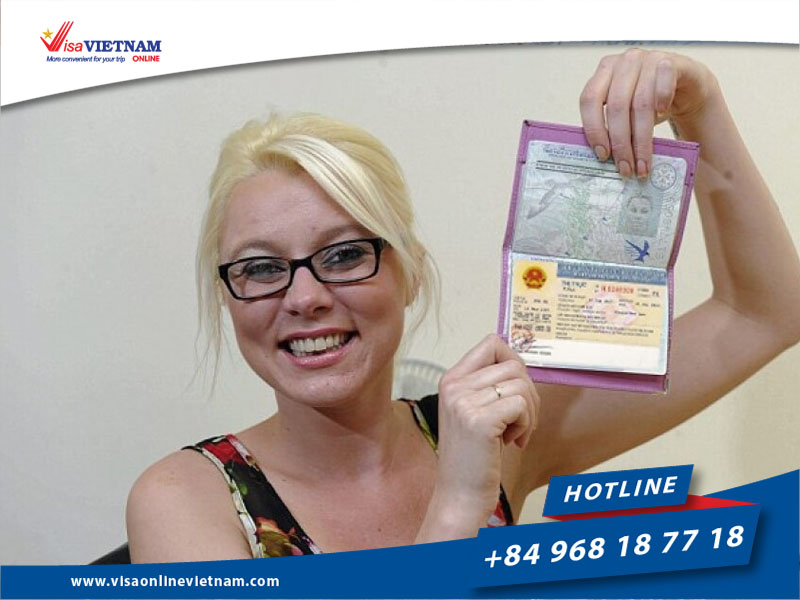 This is what many people usually do when they think about applying visa. The first thing you have to do is find out the Vietnam embassy or consulate address in your nation. Preparing all necessary documents for applying visa on the appointment date is your next step. If your current living nation doesn't have Vietnam embassy or consulate, you need to go to the nearest nation having them to do this process. This way helps you surely to hold your visa before you come to Vietnam, but it takes a lot of time for processing (it normally takes about 5 – 7 working days to get the result) as well as it wastes your effort and time, especially in case the embassy or consulate is far away from your home.
Procedure to apply visa to Vietnam at Embassy/Consulate
Complete the application form on the website of Vietnam Embassy/Consulate and submit it with your original passport, a passport-sized photo and pay the Vietnam visa fee.
The documents to apply visa at the embassy/ consulate are different from regions to regions. However, it normally includes:
Application form.
Passport which is valid for at least 6 months from the date of entry into Vietnam and still has at least two blank pages.
Recent passport-sized color photos (Image must be taken within the last 3 months; Photos should be in color and should be taken against a white background; Image must show the full face and without headgear (headgear worn in accordance with religious or racial customs is acceptable but must not hide the facial features)).
Relating documents basing on particular embassy/ consulate request.
For your convenience, we would like to give you the contact information of the Vietnam embassy in Australia as below:
Vietnam Embassy in Canberra
Address: 6 Timbarra, Crescent, O'Malley, ACT 2606 ,Australia
Phone: 61-2-6286 6059, 6290 1556, 6290 1894, 6286 6267
Fax: 61-2-6286 4534
Email: vembassy@webone.com.au
Office Hours: Monday to Friday: 9:00 -12:30 and 13:30-16:00
Vietnam Consulate in New South Wales
Address: Suite205, Level 2, Edgecliff Centre, 203-233 New South Head Road, Edgecliff,New South Wales 2027.
Phone: (02) 9327 1912 / 9327 2539
Fax: (02) 9328 1653
Email: vnconsul@ihug.com.au
Office Hours: Monday to Friday 9h00 -12h30 13h30-16h00
Vietnam visa fees for Australia citizens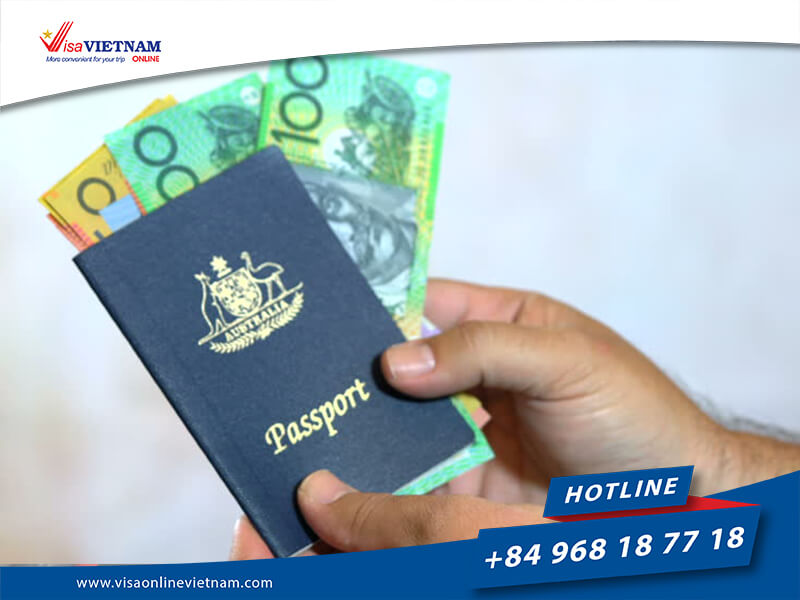 To apply for a Vietnam visa online, you have to pay two (02) kind of fees: Vietnam visa Service Fee and Stamping Fee.
Service fee: paid online in advance to process and acquire a visa approval letter, which is subject to change because of Vietnam visa policy.
Stamping fee: paid directly in cash to the Immigration Officer at the Vietnam airport.
Who can apply for Vietnam visa in Australia?
You are required to apply for Vietnam visa in Australia if you fall into one of following categories:
You are citizen of Australia
Foreigners are visiting or residing in Australia, depending on their citizenship, still need a visa in order to enter Vietnam.
***
www.VisaOnlineVietnam.com is operated by VIETNAM VISA SERVICE., Co. LTD VIETNAM with more than 18-years experience in visa service and 20-year in traveling arrangement. This website was set up to offer visa applicants the most convenient but cheapest services that meet the criteria of Quality, Safe and Secure; Reliability, Prompt Responses, Competitive Prices, and Customer-Focused Approach; save your time & money; Money back guarantees for declined applications.
In case there are any question, please do not hesitate to contact us at Hotline: +84 968 18 77 18/ WhatsApp: +84 – 982 879718 or Email: sales@visaonlinevietnam.com.